---
---
 The IQ Puzzle Ball will keep your dog entertained for hours on end, while keeping your dog's mind stimulated and improving their IQ!
• Made of high-quality, all-natural, Non-Toxic rubber
• Extra durable, long-lasting, and built to withstand the biggest of bites!
• The balls bristles are flexible enough to add your dog's favorite treats or kibble easily
• SUPER bouncy, perfect for a game of fetch with a delicious snack at the end!
• Keeps your dog highly engaged and their mind busy as they nibble, chew, and lick their way around.
• Non-abrasive and 100% safe for your fur baby.
Size Guide: 
Perfect for dogs 0-65lbs
Easy to use:
All you have to do is push your pup's favorite treats between the balls bristles, and your dog is ready to play. You can even fill it up with peanut butter if your dog prefers!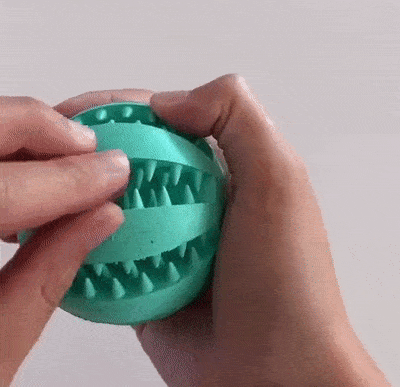 To clean:
All you have to do is place the ball in the top rack of your dishwasher.

---